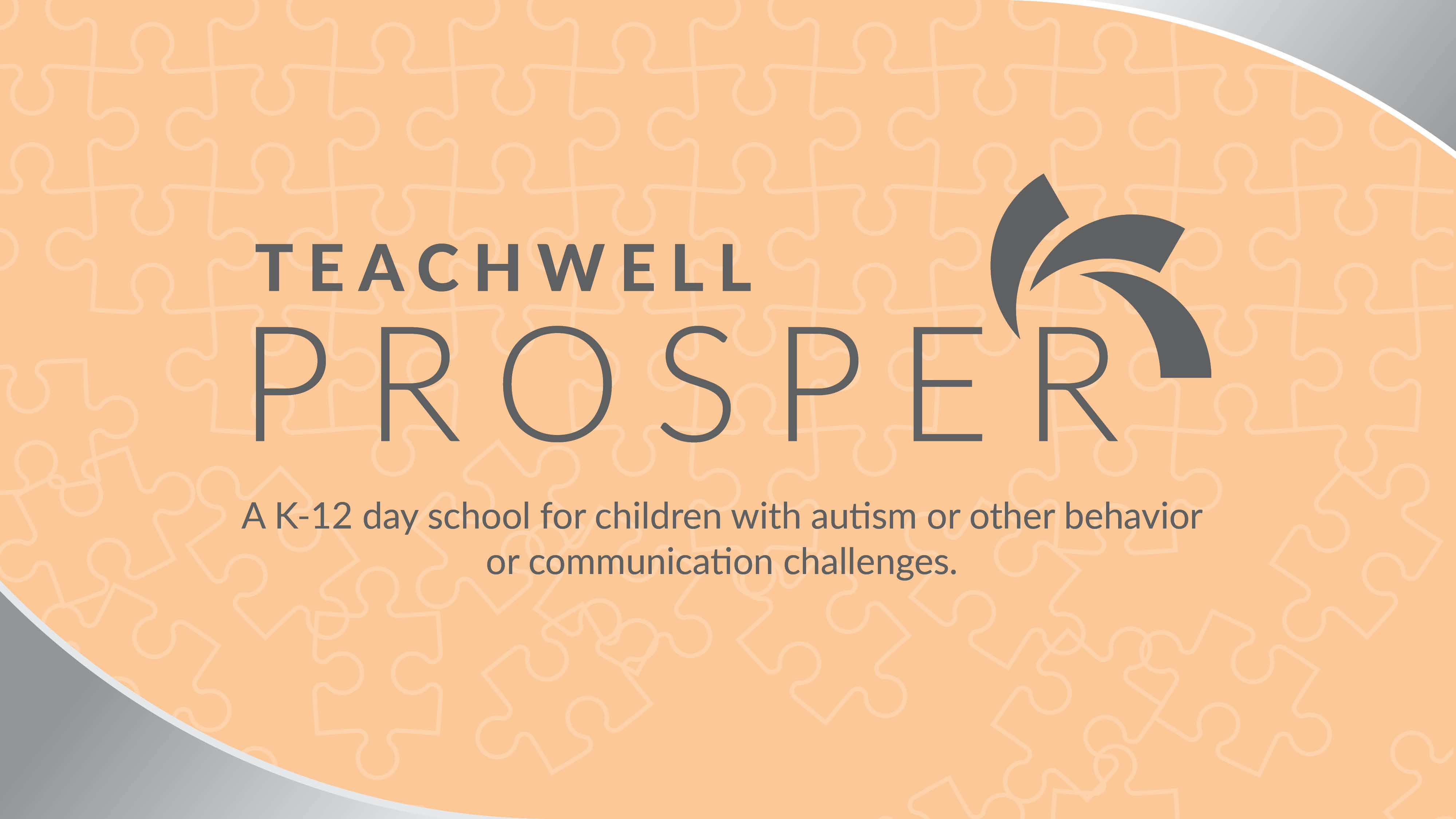 Teachwell Prosper School is a K-12 day school for children with autism or other behavior or communication challenges. We use a student-centered approach to personal learning that blends applied behavior analysis and specially designed instruction to create an environment that helps children grow academically and socially. Our team of experienced and highly trained professionals find joy in helping every learner prosper. 
Student-centered Approach
Teachwell Prosper School is designed to support the individual needs and learning styles of each student. We help educators and families develop a learning plan focused on building skills and behaviors that translate to a wide range of life situations.
Our team is devoted to creating a supportive learning environment. Students, families and educators can expect Teachwell Prosper School programming to demonstrate our commitment to:   
Family engagement
Individualized plans
Meaningful goals
Integrated programming
Effective teaching strategies
A Specially Designed Daily Schedule
A student's day includes one-on-one instruction, group learning and structured time to work on social skills. Regular sensory and exercise breaks keep students focused and a system of behavior reinforcement helps learners stay engaged and on task. 
During one-on-one instruction, our team uses discrete trial teaching, an instructional strategy proven to benefit students with autism. Our staff break down skills or tasks into small steps that are taught one at a time. Individual instruction is typically devoted to goals outlined in a student's individual education plan.
A student's day also includes group lessons on core academic subjects, practical life skills and social skills. When appropriate, our staff design learning to allow students to work on multiple skills or subjects as the lesson progresses.
Integrating Applied Behavior Analysis
Applied behavior analysis helps students and families develop behaviors that lead to successful learning. The specialized therapy is delivered by licensed professionals trained to apply the science of behavior change to the learning process. Applied behavior analysis is widely recognized as an effective way to teach children with autism, advanced communication disorders or a history of behavioral challenges.
Our behavior analysts help students learn by working first to understand the environment and circumstances that cause behaviors. When the team needs a more complete picture of how student behavior impacts learning, our behavior analysts will conduct functional behavior assessment to serve as the foundation for improvement plans. A variety of research-based ABA strategies can be used to support student progress, and all learners receive frequent positive reinforcement to motivate students to build skills and learn appropriate behaviors.
To learn more about Teachwell Applied Behavior Analysis Therapy, visit our therapy services page.
Comprehensive Special Education Services
Teachwell Prosper School offers specially designed instruction and essential student support services in an environment built to help learners succeed.
Language arts, math, science and social studies instruction is aligned to state learning standards, and our experienced staff designs discussions, activities and field trips to help students generalize learning in different settings and life situations. A daily life skills lesson helps establish independence by building functional skills useful in everyday life.
Teachwell Prosper School offers comprehensive support services to meet the needs of individual students. Our sensory room provides an environment to help students focus, and the exercise room is devoted to physical activity, body movement and energy release. On-site therapy professionals provide services outlined in individual education plans, including speech-language therapy, occupational therapy and physical therapy. We can also provide assistive technology services to identify no-tech, low-tech or high-tech solutions that improve communication and make learning more accessible.
Enrolling in Teachwell Prosper School
Enrollment in Teachwell Prosper begins with a referral from a local public school. Teachwell staff are available to meet with IEP teams to discuss programming and inform decisions. Our staff reviews each student's IEP and circumstances, which may be combined with observations and interviews. Investing time prior to enrollment helps everyone understand whether Teachwell Prosper is the right fit for each learner.
A State-approved K-12 Program
Teachwell Prosper School is approved by the South Dakota Department of Education as a K-12 education program. We accept students from all grades and programming is based on the student's grade or ability level.
School Year and Summer School Programs
Teachwell Prosper School is based on a traditional nine-month school calendar that runs from mid-August through May. During the school year, each day begins at 8 am and ends at 3 pm. We offer optional extended school year programming to keep students engaged during the summer.
Located in Central Sioux Falls
Teachwell Prosper is located at 715 E. 14th Street in Sioux Falls. Local school districts or families provide transportation to and from school each day.